Bushy Bathing Place
1920s to 1950s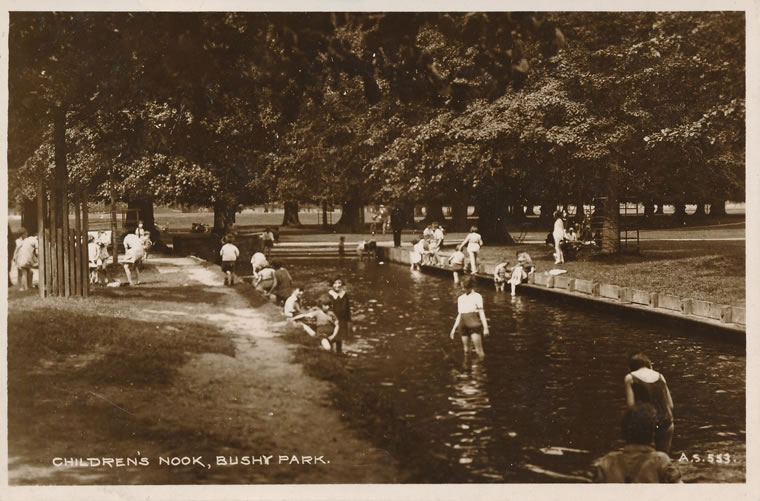 Bushy Bathing Place
As well as the official Bushy lido there was another outdoor pool where local children used to play in the summer:
"The Nook is known as 'Porters' Stream, this is the proper name for this stretch of water and it is the main feed or supply for Hampton Court's Long Water."
(Ray Brodie, Park Manager (Bushy Park), Royal Parks)
"To the left of the road and close to the playground as you walk towards the Hampton Court entrance at the top end of Chestnut Avenue this body of water remains in the same place today.

These days it looks like a rectangular wildlife pond about 100 yards or so in length. Back in the 1950's this was a regular swimming site for us kids as we hurled balls at each other and had competitions to jump in and make the biggest splash. Makeshift toy boats and yachts fought for space among the young swimmers and it sometimes resembled Cowes week at the Isle of Wight. The water was only a foot or two deep but what an attraction on a hot summer day. It's a certainty that today's health and safety brigade would have shut it down as soon as they saw it. But what fun!" (Alan Winter)
"The Children's Nook was an outdoor paddling pool for more than 30 years.
This wonderful postcard brings back some good childhood memories for me." (Alan Winter)
Perhaps a similar pool?
The Telegraph: The Secret Garden
"The National Trust hopes to open its first public swimming pool after gardeners restoring a spectacular Victorian property stumbled across a long forgotten lido."
http://www.telegraph.co.uk/news/2017/05/07/national-trust-may-open-stately-home-swimming-pond-to-public/
If you would like to participate in this memories project please email contact@lidosalive.com