A Tale of Two Pools: Hampton Pool and Twickenham Baths

A Conversation Between Brenda and Ian Whittaker


Hampton Pool
Brenda's earliest memories of Hampton Pool are from when her grandfather worked there looking after people's belongings - kept in individual baskets while they were swimming. He had retired but liked to keep himself busy. As his granddaughter Brenda got into the pool free and was a regular visitor after school in the 1950s.

When she started work Brenda used to go to Hampton pool during her lunch hour. Later, when she had married Ian she took their children swimming from a very early age - in fact, they were swimming at 2 years old. The pool closed in 1982 but was opened again in 1985. Now, Brenda takes her grandchildren to the pool.

When she was young Brenda had to take her two sisters swimming. The youngest was 3 – "a huge responsibility".

Brenda remembers the diving board and the spring board at the end of the pool. There was a slide which has gone now - probably for Health and Safety reasons. Brenda said it was a shame as the children liked it and there was always a lifeguard on duty.

Brenda's cousins also used to go to Hampton Pool; they all got in free.
Ian said he thought the café was built in the 1960s. The same building is now in use as a café - it never seemed to be regularly used in the same way as the café at the Twickenham outdoor pool.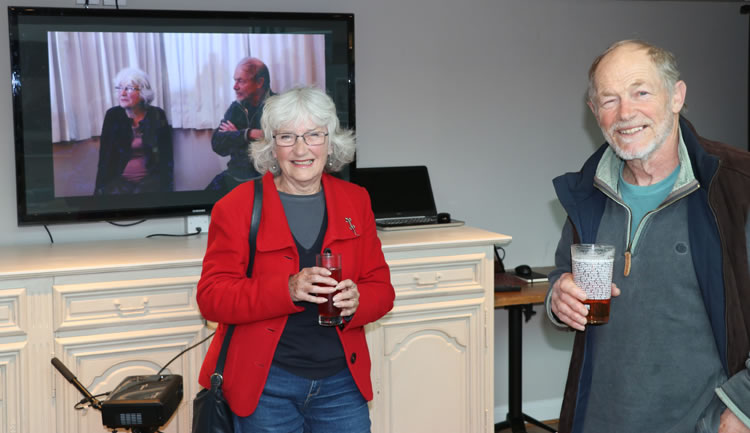 Twickenham Oudoor Pool
Brenda said that Twickenham was bigger than Hampton pool, probably 50 yards long and 10 feet deep in the middle with a shallow end at either end of the pool. There was a nice café at one end - spacious inside and out.

When he was young Ian said he used to go to Twickenham pool with his family: mum, dad and sister. His uncle from Doncaster was impressed with the pool.

After Ian and Brenda were married Brenda used to take her family to the pool (with the pram). They were there on the day it unexpectedly closed. "It was a shock, not much warning. A big loss. We used to spend the day there with sandwiches."

"The girls could swim quite strongly by the time they were 4." (Ian)

The pool was cold. Ian said that no one had the foresight to introduce hot water like Hampton Pool which now opens 365 days a year.
Ian described Twickenham pool as "atmospheric". Brenda said "It was always packed. I can't believe it closed".

From the age of 8 Ian was a competent swimmer and used to go to the pool with his friends. They used to knock on one another's doors and go down to the ferry, on the Ham side of the river, to spend the day in Twickenham.

The day always ended with a Wagon Wheel and cup of hot Oxo at the Fountain Café.

Ian remembers 1959 as a very hot summer. He used to go to Twickenham every day - it was a very big pool. Ian used Twickenham pool every day – "man and boy".

When the pool closed Ian and Brenda used to walk past and stop to look through the cracks in the fence. "The beautiful pool – derelict … It was so unnecessary". "Nothing was wrong with the pool only that it could only be used in summer as it was unheated. Someone needed vision to have a heated pool and other activities like Hampton."

"It was a big loss for Twickenham. There is no real focus". "If it was there now wouldn't people love it. It was always so well used when the weather was nice."
Twickenham Outdoor Pool - Alan Winter


Alan Winter has always lived in Twickenham; the outdoor swimming pool was an important part of Twickenham's social life for forty-five years.
Twickenham Baths, an Art Deco lido, was opened in 1935 to celebrate the King George V's Silver Jubilee.
At this time the government was very concerned with the health of the nation and promoted exercise and entertainment. One hundred and thirty-six lidos were built in this period.
It was an open air pool and basically an Art Deco lido. The deepest part of the pool was in the middle along with the diving boards. The shallow water was at either end of the pool. Swimmers had to keep away from the divers in the middle. There were large Art Deco fountains at both ends of the pool and a café, the Fountain Café. Alan only remembers buying Wagon Wheels and a cup of hot Oxo at the café.
In the first half of the 1950s Alan's parents took him and his brother to Twickenham pool. Later in the 50s Alan started going to the pool with friends, especially on sunny days. It was a focal point for the youth of the Twickenham borough. Many wonderful summers were enjoyed at the pool.
Boys and girls met at the pool - ages 8/9 - all age groups. A young people's meeting place. They stayed all day picnicking with sandwiches and a flask. It was the place to be in the 50s, 60s and into the 70s.
The Council said in 1980 that the pool was closed for refurbishment but it is still closed! Now filled in and grassed over.
Many thousands came to Twickenham Riverside to enjoy the lido.
"We do hope that in the future it will make a miraculous return - Twickenham's lido."
People were told that the pool, like the ice rink, would reopen but it never happened. This was the fundamental difference between Hampton and Twickenham. Hampton closed and was saved but people in Twickenham waited for the outdoor pool to reopen and it never happened.
Conversation About Hampton Pool: Carrie Lees, Grahame Hadden and Dik Leatherdale
Carrie said that Hampton Pool is a focus of social life.
Sitting on the roof of the main building gives a view across Bushy Park.
Grahame pointed out that Hampton has an aqua aerobics club and a gym which brings in more of the community. At Christmas members go for Christmas lunch together, taking the social aspect outside of the pool area and into the wider community.

Carrie mentioned the six summer concerts which bring in revenue - a big volunteer element is important in the organisation.

Grahame looked back to the time in the 1980s when outdoor pools were closing all over the UK. Hampton was one of the first pools to be saved and people from other pools have asked advice.

Carrie said that heating the pool had made all the difference. Other income came from the dryside, the gym, yoga and pilates, is important. In the future the café will be extended and more protected from the elements. A lift is also needed.

Grahame said that they had advised the Holywell Mead pool in High Wycombe a few years ago and given them their business plan.
Pools need to be open all year. The café, food and drink, is important. Early morning swimmers can have breakfast before going to work.
Doctors refer people to the pool (Health and Well-Being in the community).

Grahame said that the rescue of Hampton had advantages over Twickenham outdoor pool. It was more manageable than Twickenham which was so big. Also it was not owned by the Council but the land was owned by the Royal Parks.

Carrie said that Twickenham did not have a group of people as committed as Hampton. There was a team of 8/10 people who worked on saving the pool, often until the early hours of the mornings. (Carrie's husband, Marshall Lees, was the person who led the campaign to save Hampton Pool from closure). Another factor which was important was the type of area, Hampton Pool is situated in a residential area whereas Twickenham outdoor pool was in the town centre.

In 1990 Hampton got extra land for the learner pool.
Grahame: Nowadays there are ninety people who swim before going to work, between 6 and 7am, often followed by breakfast before getting the train.

The gym needs to be compliant with mobility requirements. More changing facilities are needed - it is over-subscribed. Low level showers are also needed. There is a three year development plan. More space has been requested from the Royal Parks.

Dik said they need to compromise on the best they have available. The original plan was very good for its time.

Grahame said that the same equipment is being used in the plant room from 1939 and the pumps date back to 1960. There are two separate sets of pumping equipment - some is eighty years old and still going strong.

Other pools which have asked advice include Broomfield in Ipswich and Christchurch in New Zealand (the later did not survive an earthquake). Hampton Pool has gone far and wide.

Swimming is growing in popularity and is on the National Curriculum.
The day-to-day management of Hampton Pool is outsourced and run by the YMCA which has brought great success; it brings in more professionalism and depth of resource.

Carrie Lees, has been a swimmer at Hampton pool since 1968, so knew the Pool when it was a cold water seasonal pool. She has been involved with the Pool since 1983 when Hampton Pool Group ( now Hampton Pool Trust) was formed. Carrie's (late) husband, Marshall Lees, formed and chaired the group which successfully campaigned and saved the pool from the bulldozers. HPG/HPT have continued to run the pool.

Grahame Hadden has been swimming at the pool for 30 years - a director of Hampton pool Trust for 17 years, Chairman for 5 years and involved in the renovations from 2000 to 2011.
Dik Leatherdale first visited Hampton Pool in the 1950s before the widening of the pool and was present on the day upon which it was formally re-opened in 1960. He was also a regular user of Twickenham Pool and occasionally of Teddington.
Memories Interviews and Filming at Richmond Upon Thames College

Lidos Alive has been working with a number of students studying the Creative Media (TV & Film) Level 3 Extended Diploma at Richmond upon Thames College. Students have filmed local swimmers recording memories of outdoor swimming in the London Borough of Richmond.

Interviewees included Sir Vincent Cable, MP, Simon Griffiths of Outdoor Swimmer magazine, Alan Winter, Brenda and Ian Whittaker, Ken Howe, Carie Lees and Julie McCarthy.

The Curriculum Manager for Media and Performing Arts is Davinder Teji and the lecturer working with the students is Marius Smuts.

Sir Vincent Cable, MP for Twickenham started off the memories interviews with the students. Vince told us that he used to swim in Twickenham outdoor pool forty years ago and took his children there. However, this pool no longer exists. Vince had found the pool cold at certain times of the year as the pool was not heated. He said that he would use a modern lido with a heated pool if one were to open in Twickenham.


Simon Griffiths, publisher of Outdoor Swimmer magazine https://outdoorswimmer.com, pointed out that the lidos have come and gone but outdoor swimming has not gone away. Many lidos have been lost over the last thirty years but today there is a revival of outdoor swimming which includes outdoor lidos and swimming in natural bodies of water such as parts of the Thames. Simon also mentioned the latest restored lido – the Thames Lido in Reading which combines swimming with a very nice restaurant.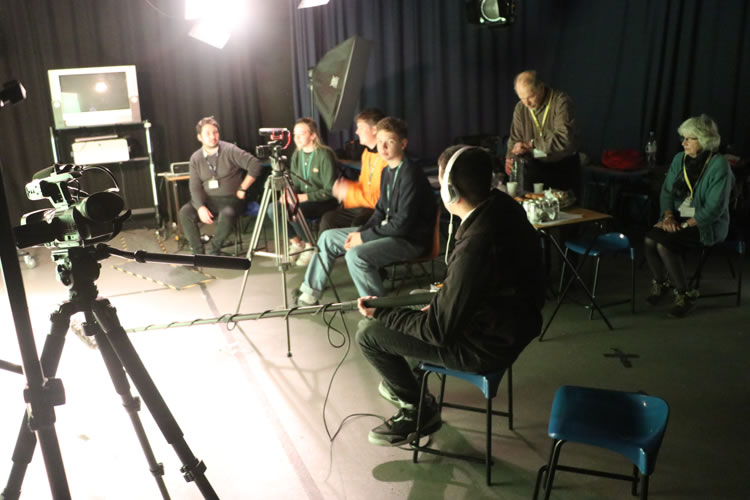 Media students from Richmond upon Thames College interviewing and filming

Alan Winter spoke about a number of our less well known swimming areas: "The Childrens Nook is a memorable place for me as it was a regular summers outing with my parents and brother in the early to mid 1950's. Later and through much of the early 1960's I spent many happy days at Twickenham Corporation Open Air Baths on the Riverside with friends. More of that later. Back to Bushy Park."
"To the left of the road and close to the playground as you walk towards the Hampton Court entrance at the top end of Chestnut Avenue this body of water locally known as The Childrens Nook remains in the same place today.

These days it looks like a rectangular wildlife pond about 100 yards or so in length. Back in the 1950's this was a regular swimming site for us kids as we hurled balls at each other and had competitions to jump in and make the biggest splash. Makeshift toy boats and yachts fought for space among the young swimmers and it sometimes resembled Cowes week at the Isle of Wight. The water was only a foot or two deep but what an attraction on a hot summer day.

The Children's Nook was an outdoor paddling pool for more than 30 years. "
"Now lets go back to 1919 and discover the Bushy Bathing Pool, Upper Lodge.

During World War 1 which lasted from August 1914 to November 1918, Upper Lodge in Bushy Park was used as the Kings Canadian Red Cross Special Hospital. In 1919 after the war the site was handed over to London County Council to be used as a school. This school opened at the end of 1919 and was called The King's Canadian Residential Open Air School. A small river had been dammed to form two bathing pools - one for swimmers and one for non-swimmers. The school majored on fresh air and exercise provided for London Children who would reap the most benefit. Swimming in fresh air was a major part of the curriculum.
The School closed in 1939 at the outbreak of World War 2 and with it another swimming place was lost. Upper Lodge and its stables were sold for private residential development in the 1990's.
So that gives us two swimming/lido places in Bushy Park from 1919 to the late 1950's spanning some 40 years."
Alan's next stop along the river from Hampton towards Richmond in the old Borough of Twickenham was Tagg's Island.
"I'll now take you across the Old borough of Twickenham and along the river from Hampton to Richmond stopping at the known swimming places on the way. We can start at the Palm Beach Lido (Taggs Island).

By way of introduction to this Lido, a bit of background. Taggs Island sits between Hampton Ferry and Hampton Court Bridge opposite Bushy Park. It is now 1912 and enter Fred Karno, a wealthy Edwardian music hall artist and impresario who had a house boat moored at the island. He had a grand vision of opening a new hotel with pleasure grounds and building "The finest, most refined, luxurious river hotel in Europe." He named it the Karsino. When war broke out in 1914, The Karsino continued to operate providing a popular base for returning officers and their families. However, Fred Karno was losing money steadily and post-war, few had the money to spare for such lavish entertainment. Three summers of bad weather proved the final straw for a venue so dependent on the river and the grounds for its appeal, and in 1925 Fred Karno was forced into bankruptcy. He died in 1941.

The New Princes Restaurant, a prestigious cabaret venue in Piccadilly had taken a lease on the old Karsino casino on Tagg's island. The intention was to convert this island into a miniature version of Palm Beach, Florida by placing thousands of tons of sand, palm trees, sunshades, beach chairs and a fleet of motor-boats, punts and canoes for river merrymakers  and after refurbishment it re-opened as The Palm Beach on 8 May 1926. Signs went up around the island flagging The Palm Beach Lido and again it attracted many swimmers to Taggs Island. Another brave business venture but it too only lasted a couple of years and closed in 1928. A rebrand to the Thames Riviera was short lived although it too became a meeting place for swimming in the river."
"This certainly wasn't the end of swimming in the Thames in the old borough of Twickenham and as we move East along the Thames we arrive in Hampton Wick. During the 1930's a swimming pontoon with diving board was moored at Burgoines Boatyard, Lower Teddington Road, Hampton Wick (behind what is now Salamander Quay). Again, the advent of war in 1939 put paid to that. Further east and we arrive in Twickenham where the erection of a bridge to Eel Pie Island and the Riverside in 1957 encouraged many a local youth to impress the girls by practising their diving techniques from the bridge. The local constabulary soon put a stop to that although we still get the odd diver, especially on rugby days."
"Carry on to Marble Hill Park and the gate by the famous black walnut tree which leads on to the towpath is where a set of steps leads down to the river. This was another swimming and paddling place over many decades and indeed my mother and her brothers all learnt to swim here. There was a pontoon made of wood and old barrels moored in mid-river between Marble Hill and Ham Fields and this was a popular swimming spot in the 1930s.
On towards Richmond Bridge and I remember youths diving into the river from the Three Pigeons Pub landing stage in the 1960s on summer evenings [on the Richmond side of the river]."

Alan's trip along the Twickenham side of the river almost ended at Richmond Bridge where during a hot summer in 1929 a pontoon, diving boards and slide were all available from a moored boat.
"And finally arriving at the bridge we find yet another 1920s river lido ...
A hot summer in 1929 encouraged the building of a temporary Lido in the River Thames for bathers to enjoy the water. This part of the River Thames was dominated by Richmond Bridge which was built in 1777. It is the oldest surviving bridge over the Thames in Greater London. Around the bridge all manner of boating craft could be hired for pleasure or sport and a fine selection were moored around the Lido. It was an immensely popular swimming place that year but very much a Heath Robinson job with diving board to the left and a waterslide to the right. I would imagine that today's health and safety spoilsports would shut something like this down immediately."

However, Twickenham outdoor pool, the jewel in the crown, was left to last. Alan swam in Twickenham pool in the 50s and early 60s during hot sunny days on Twickenham Riverside. Built in the early 30s the imposing Art Deco pool was very long with two shallow ends. There was a phalanx of diving boards and spring boards and Art Deco fountains at both ends. Whole days would be spent there with everyone having great fun; particularly young people who socialised at the pool.

Alan told us that 12 pennies (12d) which today is the equivalent of one shilling could be used for the 6d entrance fee and the remaining 6d for a 3d Wagon Wheel and the other 3d for a cup of hot Oxo (these had to be bought at the end of the day) and so Alan had to walk home!

It was said that the pool had to be closed for refurbishment (in the early 80s) but it never reopened. Such wonderful memories and a Great Shame.

The pool was derelict for thirty years but the site has now become Diamond Jubilee Gardens – the old pool is marked out in concrete – and a concrete diving board remains on the edge of where the pool once gave pleasure to so many people of all ages.

Brenda Whittaker's father and five uncles learned to swim at Mereway pool on the River Crane. Mereway closed in 1935 because of pollution – the fish died. Many children learned to swim at Mereway and the lifeguard was a man with a long pole who fished out anyone who appeared to be in difficulties.

Brenda's grandfather worked at Hampton Pool in the late 1950s – after he retired from work - giving out baskets where swimmers kept their belongings. Hampton was a place to meet friends and to socialize.
Ian Whittaker used to swim at Teddington pool in the early 1960s. He went a few times with a friend in the scouts. This was before it became an indoor pool.
Ian lived in the borough all his life working in a cartographic office. His daughters became keen swimmers and were members of Teddington Swimming Club.

Ian also swam at Hampton outdoor pool. Once he went to Hampton Ian said he fell in love with Hampton pool.

Ian remembers Pools in the Park on the Richmond side of the borough. This swimming complex was opened when Richmond Baths closed. Ian used the main indoor pool but used the outdoor pool for a few lengths at the end of sessions.

As a boy, Ian went mostly to Twickenham outdoor pool. He described the building as spellbinding – beautiful Art Deco. On hot days he went to Richmond from Ham and then walked along the Twickenham side of the river to spend the day at the pool; sometimes he would row across to Twickenham and the pool.
Ian was keen for his daughters to learn to swim. Brenda used to take them to Twickenham pool and they could swim by the age of four - Brenda taking the pram to the pool. Their youngest daughter is now a very keen outdoor swimmer. Ian still swims at Hampton and coaches the Masters Team.

Ian and Brenda Whittaker were both shocked when Twickenham closed. It happened on a beautiful day. They missed the Art Deco fountains and the Fountain Café - at the end of the day it was almost obligatory to buy a chocolate Wagon Wheel and a cup of hot Oxo.

Brenda remembers the day the pool closed. She was at the pool and getting the children ready to swim when they were suddenly told it was closing. She could not believe what was happening.

After Twickenham closed Ian and Brenda used to go and peer at the pool through the fence surrounding their beautiful Art Deco pool; it was also know for its stunning staircase. They said it was such a waste – it was always packed when the sun was shining.

Ken Howe was a regular at Teddington pool in the 1960s when it was an outdoor pool. He started work at 17 and worked six days a week. Sunday was his only day off and there was very little for youngsters to do in Teddington apart from visiting the one coffee bar and later a Wimpy Bar. Pub hours were limited and there was a lot of scrutiny for under-age drinking. Teddington Pool had a small café but it was the only place to go on a Sunday. How things have changed in Teddington!

Carrie Lees moved to Hampton, with her family, in 1968. Hampton Pool had by then been in existence since 1922.
"We had 2 young children aged 2 and 1year old, with a third born in 1970. Our main years of visiting the Pool, were from the mid 70's. – and usually only on hot days! Generally, these were family visits – my husband Marshall, and children Kate, Richard and Susannah. So it would have been evenings or weekends.

At the time we didn't know anyone working there, however we later on met Neilo Falcini who managed several of the local open air pools.
Favourite memories – happy family times, the sun shining, the water warmer due to the heat wave -68F !! Picnicing on the pool side. All our children loved the water and became good swimmers. I have a photo of a very happy Susannah, standing waving next to the diving boards. And it was all so close! We walked there and back in our swim suits, all very informal!

We were all hugely saddened when Hampton Pool closed. The children were by then aged 16, 14, 11. During the next year it became a topic of conversation over supper. Most outraged was Susannah by then nearly 12 who declared she would write to Mrs Thatcher – and did so! She did receive a reply ( I have the copy) to the effect that it was a matter for the Local Council.

At this point Marshall decided to take action, and formed the Hampton Pool Group (now Hampton Pool Trust) from local volunteers. Once agreement had been obtained from Richmond Council, to run the pool as a charity other volunteers were sought. The campaign was amazing – fundraising, restoration, and above all seeking advice on management. A decision to heat the water was made very early on, and one that has never been regretted.

The Pool was reopened in May 1985, with an official opening in June, by Duncan Goodhew, the Olympic swimmer, and attended by the Mayor, MP Toby Jessell, Local Councillors, and a triumphant public. It was the happiest occasion, and a steel band played throughout. It rained! Who cared?"
Julie McCarthy lived in St Margaret's in the late 1960s. Pools on the Park opened a couple of years earlier and she would go there in the summer and take picnics. It has an indoor and an outdoor pool. There were diving boards and spring boards which are no longer there. Twickenham outdoor pool was about the same distance from her home and she spent a lot of time there when she was studying for her A levels. Julie remembers that it had a good café and was a place to meet friends and socialise.