LIDOS LOST AND FOUND
The art and architecture associated with our historic lidos is definitely worth investigation. The heyday of the lidos was in the 1930s (at the height of Art Deco) when 169 lidos were built across the country, but some were built before. One such lido, built in 1902 and now a Grade II listed building, is only an hour away from Twickenham and has recently been restored to its former glory as the Thames Lido.
The Thames Lido, in King's Meadow in Reading, was one of the country's many lost lidos and like the Twickenham lido fell into disrepair.
The style of the King's Meadow lido can be described as a "courtyard" with the pool surrounded by changing rooms and poolside places to eat, drink and relax. Many lidos were large outdoor pools, traditionally with a fountain or smaller play areas for young children; others were on or close to beaches. Some early lidos were areas on rivers where changing facilities had been built such as the one at Mereway in Twickenham and Richmond Bridge lido near the bridge on the Twickenham side.
There are many campaigns nationwide to save lidos and bring them back into use.
Some campaigns around the country have been successful, such as Thames Lido, Clifton Lido and Saltdean Lido.
Hampton Pool was one of the early success stories where a local authority outdoor pool was saved by a campaign by residents.
Photos of Thames Lido before renovation

Photos of Thames Lido after renovation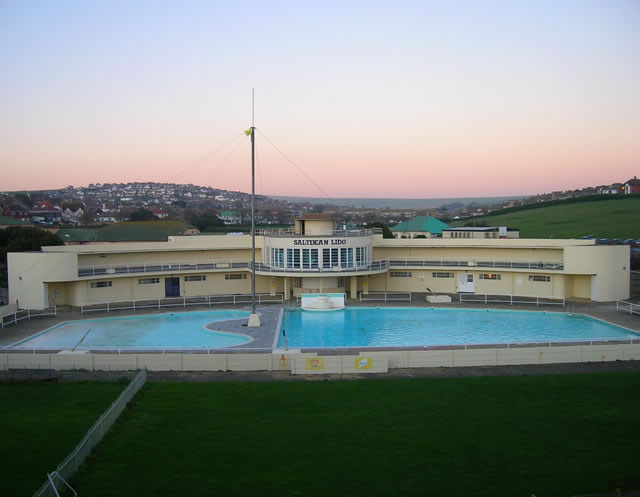 Saltdean Lido, an Art Deco lido in Brighton & Hove, is a Grade II listed building.
Photo © Simon Carey
Like Twickenham outdoor pool we have seen that lidos were lost all over the country. A leisure activity that was part of the social fabric of many communities just disappeared leaving happy memories of sunny days but also leaving a large hole in community life. Many lidos fell into disrepair although some were saved in later years.

Danson Park Lido in Bexley, Kent, which opened in 1936, was one of the lidos situated in a park - originally the home of a merchant, Sir John Boyd, in the 1760s. The lido was a place to take the family, where parents could swim and relax on sunny days and children could play in the water fountains, a feature of many of the lidos. An original water fountain can be seen today at the largest outdoor pool in the country in Tooting Bec, South West London.

Lidos were great places for a family day out, especially on public holidays.

Billy Butlin was a promoter of outdoor swimming and outdoor swimming pools were a feature of his holiday camps which were very popular around the middle of last century.

Some lidos were on the sea front. A good example of a lido integrated with the sea can be seen today at Camp Bay in Gibraltar (an Overseas Territory of the UK).

Of course, with the increase in holidays abroad our lidos became less important as families took advantage of package holidays and went off in search of the sun.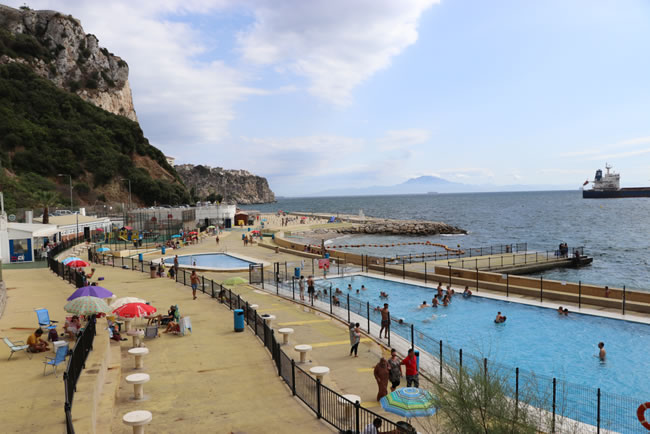 Gibraltar's Lido at Camp Bay
Lido, Children's Pool and Sea Swimming Area
However, the days of children all over the country spending time at the local lido with their friends have gone. Other pastimes have taken the place of outdoor baths and those living in places such as Hampton where the pool was saved by the community for community use should think themselves very lucky.