Twickenham Lido
1935 to 1980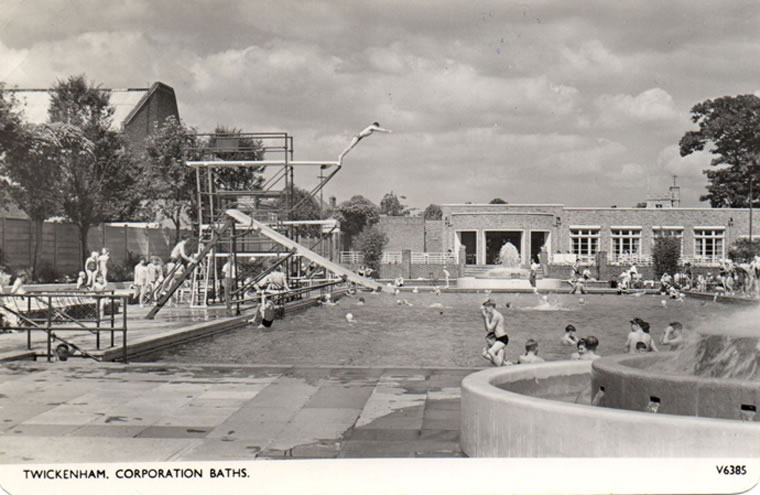 Twickenham Lido 1960s, Image courtesy of Alan Winter
Twickenham Lido was built on the site of Richmond House overlooking the Thames. (It was the second Richmond House which was smaller than the original house which had stood on the site for around three hundred and fifty years).
Richmond House was demolished in 1927 and following a petition by residents an outdoor swimming pool was built in the style of its time and at the beginning of the heyday of the lido movement. The pool was closed in 1980 for refurbishment but was never reopened.
One of the participants in the project says that her husband still talks fondly of the lido in Twickenham and says it was a shame it had to close. The grandmother of another contributor was one of the original swimmers that opened the pool when it was first built. An email described spending a lot of time at Twickenham lido as a child and said that even when they closed a friend swam there to train for swimming the Channel, even though it was snowing and the water looked green!
One of those who learned to swim in the Twickenham swimming pool in the early 1970s wrote: "A very special memory, and such a shame it went to ruins. As a school girl, I used to walk past the derelict pool on the way to the river, and look through a hole in the brickwork. I would see the pool overgrown with plants". A member of the Teddington Swimming Club, who also trains at Hampton Pool remembers swimming when she would pack a picnic and spend a whole day there; she is very keen to preserve our heritage.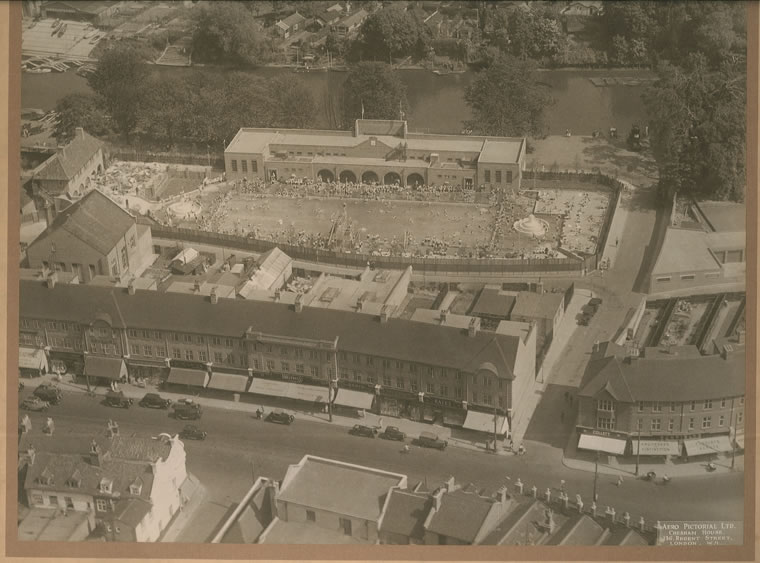 Twickenham Lido 1937
(Click image to view full size)
Brenda was a regular visitor to Twickenham lido for many years and spent whole days there when the weather was good.
People took picnics and Brenda remembers "I do remember buying Wagon Wheels and hot Oxo to drink at Twickenham in the café."
"Twickenham Lido was a beautiful Art Deco pool, unusual in that it was deep in the centre, shallow at each end. The diving boards were obviously in the centre and there was a slide either side of them. It was a big pool in length and width. The walking area around the pool was spacious and at each end was a stylish cream fountain (like a modern wedding cake where three layers sit one on top of another) In one corner was a paddling pool and up some steps, a cafe. People could sunbathe at either end of the pool. The changing rooms were spacious unlike modern cubicles!
The building was Art Deco, a long building with Crittal windows. It always felt stylish and spacious inside."
"I remember pushing my pram to Twickenham pool and after paying would go back round the corner and someone would open a big gate and let me in as there were far too many steps in the building for prams to cope with!"
"On that last day Twickenham was open my sister in law and I arrived for the day we thought, paid our money and then after about an hour or so we were told that the pool was closing and we were slow to realise that that was the last day ever it was to be open. A very sad day!!"
Becky Horsbrugh and Julie McCarthy were also regulars at the Twickenham lido.
Becky writes: "One of my fondest memories as a child in the 1970s was visiting Twickenham Lido. Many a summer afternoon was spent after school there. I remember my mother would pick myself up from Trafalgar School and my brother from Chase Bridge, laden with our swim things and a snack to have by the pool. The lido would be packed and you would always bump into people you knew. I can't remember much what it looked like, but I do know it was one of the favourite places for us to all hang out. What seems strange from my memories as well from that time is the weather always seemed great! I remember endless summer afternoons at the lido; the queues that would form outside, hot, sunny weather and a place that was such a great getaway."
Julie remembers "We used to go to Richmond and Twickenham lidos in the 70s. We would spend the whole day there, taking a packed lunch. I revised for my A Levels whilst topping up my tan during the amazing summer of 1976! I have a picture of me posing at the pool that summer. What a shame it closed ..like so many over London including those that I went to as a child in NW London... Round wood Park, Kingsbury, Sudbury Town and many more..."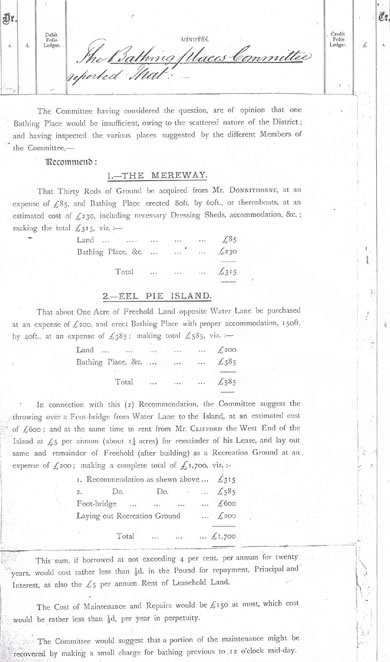 The minutes (left) are dated 24th October 1889 and document the decision to create a lido on Twickenham Riverside. £585 was set aside to create a Lido on Eel Pie Island. In addition £1,700 was set aside to install a footbridge connecting the Embankment to Eel Pie Island. Click on image to view full size.
If you would like to participate in this memories project please email contact@lidosalive.com